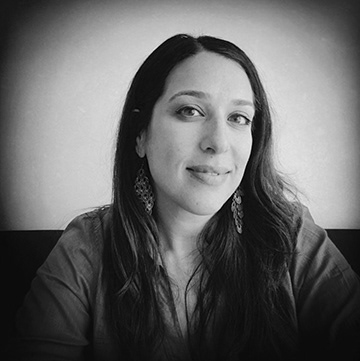 Analytical and logical, Suzannah believes that good design stems from a solid concept and enjoys the challenge of coming up with that unique, winning idea. With over 20 years of experience, she enjoys working with people and organizations that share a similar vision – to create compelling work that has positive social impact with minimal economic and environmental costs. 
Suzannah has traveled and worked abroad extensively and believes this global outlook has not only influenced her creative approach but also her ability to adapt to new and challenging situations. She effectively communicates with clients and colleagues in order to uncover the best solutions possible, while her personal approach enables others to bring clarity and focus to complex ideas, and creative visions to life. 
Suzannah lives in Los Angeles with her husband and two children. When she's not solving design challenges, she enjoys spending time with her family, being outdoors, traveling, or getting creative in the kitchen.
Art Direction and Brand Development
Creative brand content, identity development, graphic design and production for advertising campaigns, marketing collateral, and new media for a variety of cause driven organizations, arts organizations, educational institutions, social enterprises and organizations within the corporate sector
Editorial Design
Art direction, editorial layout design and photo editing for award winning publications
UCLA Magazine
,
The Wessex Muse Magazine
, and
SportsTravel
Graphic Design Instruction
Instructed Fundamentals of Design and Color Theory at the Art Institute Los Angeles
Developed course for new Sustainable Packaging Class at the Art Institute Los Angeles
Product Development
Developed product concepts, two and three dimensional designs, point of purchase displays and packaging for product and gift set lines distributed at Target, Kmart, Walmart, Sears, Dillard's and JC Penny
Managed licensed product lines for both Walt Disney and Mary Engelbreit Inc.
Merchandise Design for Los Angeles Philharmonic and City of Culver City
Education
MSC Sustainable Product Design, Bournemouth University, United Kingdom
BSC Graphic Design, University of Cincinnati School of Design, Architecture Art & Planning
Society of Publications Designers print medal finalist and merit awards, 2012–2015; Recognition in the prestigious
A Photo Editor
blog; Published design work on the
New York Times
front page; Design work featured in the blockbuster film
Valentine's Day
; Sponsorship, event planning committee and prescreen judge for AIGA LA ReDesign Awards; Winner in AIGA Miami juried exhibition